Primary Amino Nitrogen UniTab Reagent (=PAN)
Determine primary amino nitrogen compounds (or Nitrogen by OPA = NOPA) in grape juice & fermenting wine/must samples.
Contains buffered N-Acetyl-l-cysteine (NAC) tablets, ophthaldialdehyde (OPA), and Nitrogen Standard Solution. Each tablet is dissolved in 5 mL of deionized water, permitting the user to prepare only as much working reagent as required for daily use.  This "fast blanking" method only requires working reagent (the blank reagent solution is no longer required).  This procedure is based on a published method from UC Davis.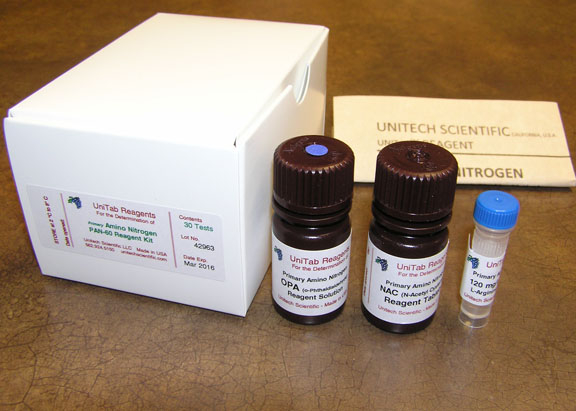 Why Measure Yeast Assimilable Nitrogen compounds (Ammonia Nitrogen +
Primary Amino Nitrogen)?   Typical total YAN ranges from 40 – 560mg/L; both yeast & M-L Bacteria require available nitrogen for effective fermentation.
Low Ammonia Nitrogen & PAN levels have been associated with sluggish fermentation and sensory imperfections.
Nitrogen content may be supplemented e.g. with diammonium phosphate (DAP.)
Routine and excessive nitrogen supplementation should be avoided, since residual nitrogen supports the growth of unwanted wine spoilage organisms such as Brettanomyces, Lactic Acid Bacteria, Acetobacter, etc.
Customer feedback is the lifeblood of our business. Tell us what is on your mind, good or bad. We respond to all customer feedback and look forward to hearing from you!

12026 Centralia Road, Ste. H, Hawaiian Gardens, CA 90716


info@unitechscientific.com